What makes a man a gentleman?
The meaning of the word 'gentleman' has changed over time. In its original sense, it referred to man of high rank or nobility, and for many years to be a gentleman was to be someone who had their own coat of arms (see image below). In the Victorian era the concept was opened up a little, and the word was applied to 'a well-educated man of good family and distinction'.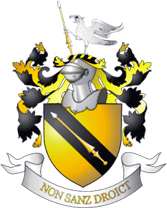 In modern times, we are judged less on our background and family, and more on our actions and behaviour. The choices we make and the things we do say more about our character than the family we were born into or the school we attended. And so, in 2011, what makes a gentleman? The English writer, Edward Docx, has created a list of 50 things which he believes comprise a 'New Gentle Man'. They include such points as [The modern man...] 'Always pays on the first date,' and, 'Never Googles to prove a point.' Some of his criteria are clearly only applicable to westerners (surely everyone in Japan 'Will know the correct way to eat sushi and is adroit with chopsticks,' not just Japanese gentlemen), but taken as a whole, Docx's list is as good a guide as any to an attitude that puts modesty and manners ahead of pride and vanity.
So gentlemen! Take a look at his list and find out your score:
Picador Blogs, Picador: prize-winning fiction, history, memoir and poetry
I got 40 out of 50, although I was being kind to myself on a few of them. Also, I would love to know of any other points which you think should be included.