'Story of life.' Launch party – September 2013
Our most recent art exhibition was launched at a party on the evening of 8th September, and what a monster of a good time it was! The artist this time is a young woman from Taiwan who goes by the penname of Sieii Nidosani. She has practiced calligraphy since the age of 12, graduated from the calligraphy department of the National Taiwan University of arts in 2011, and earned her masters from The Kobe University of Design just this year.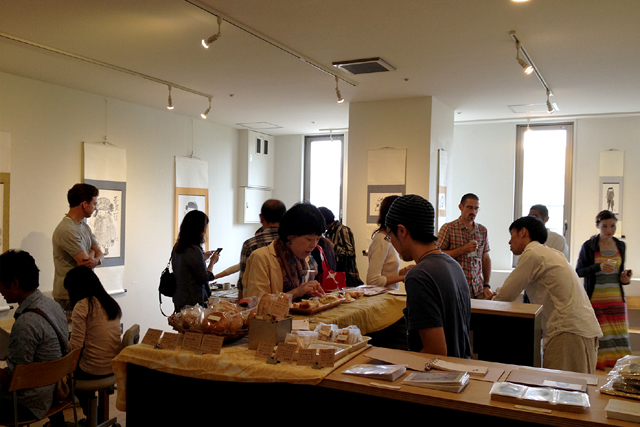 It is no surprise then that her work draws heavily on the art of calligraphy, but what she produces is a surprisingly fresh mix of cultures and style. Most of her work is mounted backdrops like those of traditional Japanese wall scrolls, but the charcoal ink paintings themselves contain very modern characters she refers to as "monsters." She uses brush strokes of varying pressure no doubt mastered during her long years of calligraphy training, and accents the otherwise black and white art with subtle flares of color that tie the compositions together.
Guests at our party who were bold enough could request a free portrait, and more than a dozen people did! The monsters Sieii Nidosani painted for them, like all her others, were more cute than they were scary. Perhaps the only frightening thing about them was how close they came to representing the hearts of each subject. I spoke with one student who was quite moved after she received her portrait monster. The student explained to me that while the monster looked nothing like her, every element of the art represented her character in some way, and she was amazed that the artist could do this when they had only just met!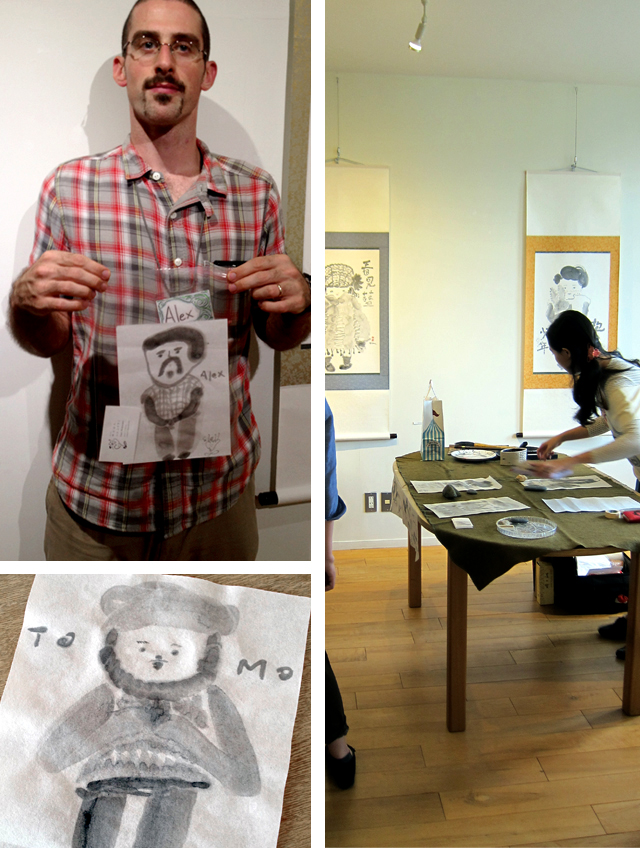 Aside from the free portraits there was gourmet coffee available, and guests were able to enjoy all the things that have become expected at our parties: free wine and beer, delicious organic homemade baked goods for sale and sample, provided kindly made by our resident baker, Itsuki, and the international atmosphere! There was the Taiwanese artist and her Polish husband as well as guests who came from as far away as South America, and of course there were the staff members from Australia, Canada and the USA.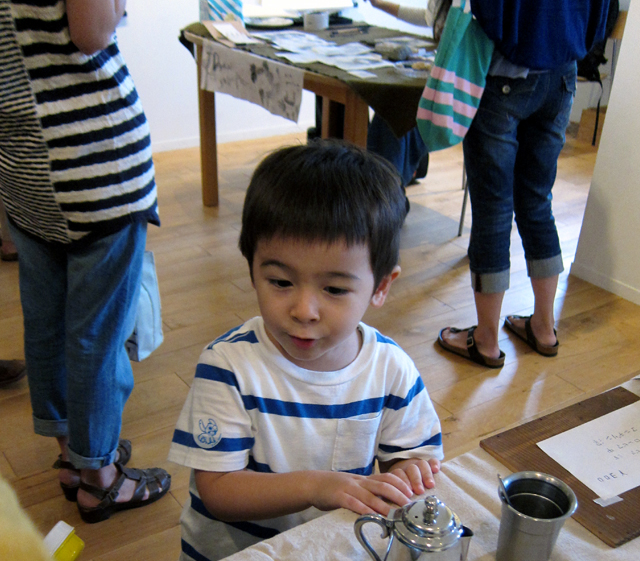 So whether you are one of our Yoga students, one of our English students, or you just happen to be in the area and feel like enjoying some fine art and refreshment, please stop by for our next party, scheduled for the early evening of Decemeber 8th – I hope to see you there!